This story first appeared on global.ubc.ca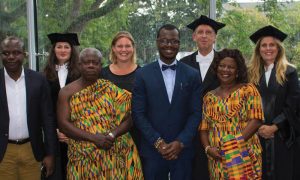 There's tough, and then there's Tough. It's unlikely anyone would ever say that Dr. Emmanuel Twumasi Osei travelled Easy Street on the long and bumpy road to his doctorate. Today, though, Dr. Osei will tell you he is extremely proud – delighted, really – to be an Assistant Professor in the Department of Biology UBC Okanagan and Associate Member at the UBC – St Paul's Centre for Heart Lung Innovation. Just a few years back, that eventuality seemed all but unattainable. It was the UBC joint PhD program that was the catalyst – essentially partnership arrangements with other universities around the world designed to share doctoral candidates, and the costs, as they work towards earning their PhD.
Applying for PhD programs is competitive. But when you come from a developing nation, acceptance is a long shot at best. Dr. Osei says he applied to some 200 PhD programs around the world back in 2012. All declined. This was after he completed his degree in biomedical sciences in Ghana, followed by a one-year intensive master's. That was in medical diagnostics as a Commonwealth Scholar for middle- to low-income countries in 2010 at Cranfield University in Bedford, England. Dr. Osei also secured a coveted spot at a research post there: harvesting rat brain cells to create 3D models, then adding triggers to mimic how cerebral palsy affects organs in the body. "It was amazing!" he recalls. "I was sold."
England marked the first time Dr. Osei had ever travelled, and the culture shock was jarring. But he also remembers it as "the best period of studying in my life" because he finally for the first time got to apply the principles he had learned. Becoming a science researcher had been Dr. Osei's lifelong dream since boyhood growing up in Sunyani, Ghana. After not one university contacted him about a PhD, he concluded that dream wasn't going to happen. He packed up his belongings and returned to Ghana – and his former school (University of Science and Technology) in a position as a medical school assistant lecturer.
A year-plus later, an email arrived from Groningen University in Holland, inviting Dr. Osei to interview for a joint PhD program with UBC. Fortuitously, the project centered on building artificial models to study communication between structural cells in the lung – similar to his UK investigations – at the Groningen Research Institute for Asthma and COPD. In short order, Dr. Osei received a welcome letter to the program. He jetted off to the Netherlands in 2013 for two years of a joint project between two lab groups, then on to Canada and UBC's Vancouver campus for the final two years in Dr. Tillie-Louise Hackett's lab to investigate factors that play a role in asthma.