This story first appeared on engineering.ok.ubc.ca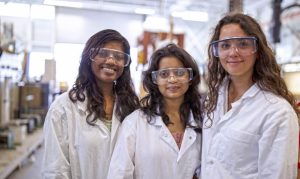 Globalink Internship Program brings new ideas and cultures to the School of Engineering. The Geomaterials Research Group, led by Associate Professor Sumi Siddiqua, welcomed three international undergraduate students to the team this summer to collaborate on several research projects currently underway. The students are working with graduate researchers and Dr. Siddiqua to investigate the chemical/biological stabilization of geomaterials, carbon sequestration in binder materials and the reuse of industrial by-products.
"This is one of my favourite programs offered by Mitacs," explains Siddiqua, "international undergraduate students get to explore the Okanagan, and Canada, while we get to benefit from their collaboration and sharing of new ideas and cultures."
The Globalink Internship is a 12-week research internship under the supervision of Canadian university faculty members in a variety of disciplines at over 70 universities. All three interns expressed appreciation to Dr. Siddiqua for selecting them for her lab, and are considering applying for graduate programs in Canada including at UBC.