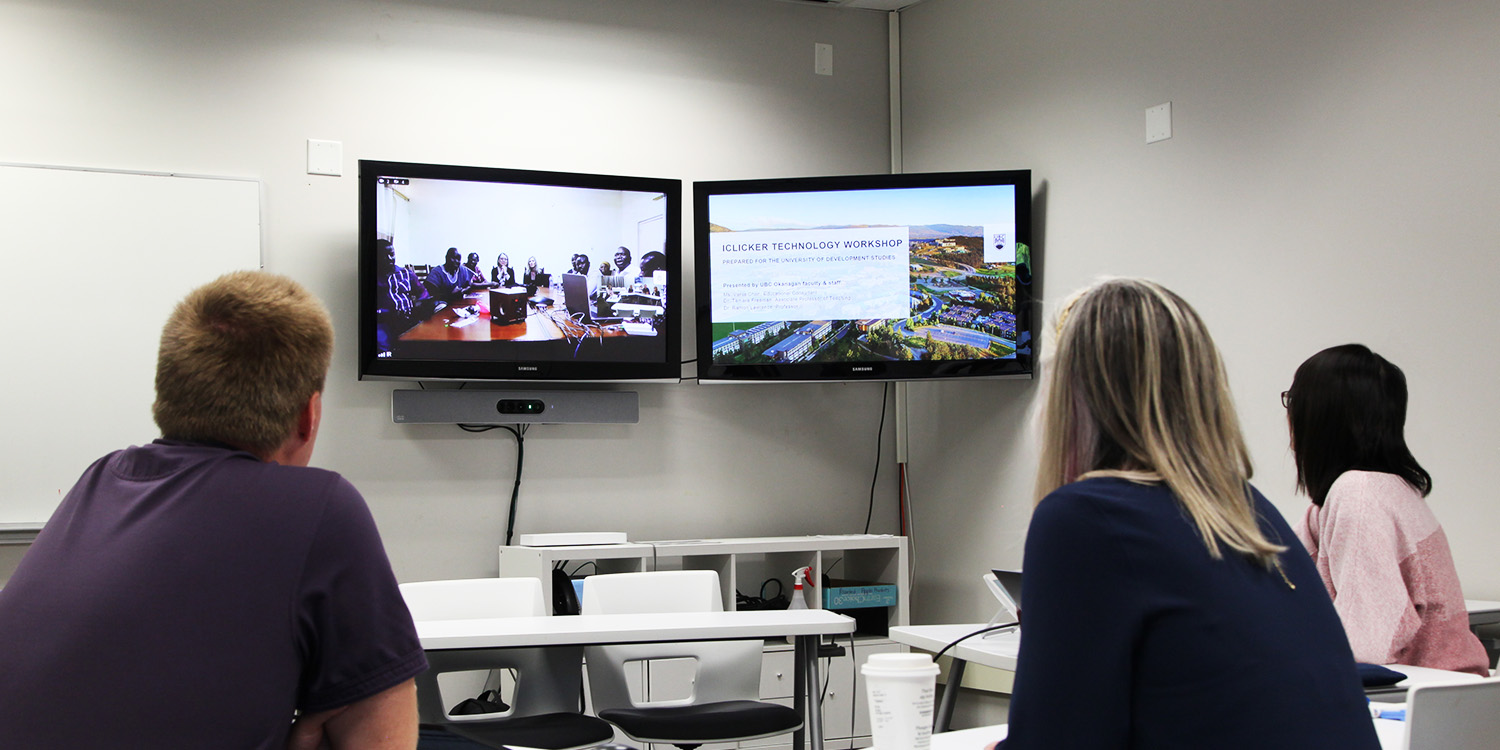 Technology and sustainability don't always mix due to the fast pace of innovation, oftentimes leading to unnecessary technological waste. This was the problem UBC Okanagan faced after a decision to switch to a cloud-based iClicker system rather than physical remotes. With no use for the equipment in our classrooms, Chief Librarian and Associate Provost, Heather Berringer wanted to find a sustainable solution to keep the iClickers in use.  
"Building a sustainable world means that we need to take every opportunity to extend the life of our equipment while continuing to innovate our learning environment," Berringer explains. "When I first heard about the planned upgrade, I made it a priority to reach out to our partners to find someone who could benefit from iClicker technology." 
It was a long-standing international partner, the University for Development Studies (UDS) in Ghana, who offered a sustainable solution by identifying a use for the iClicker remotes in their classrooms. The  history of collaboration between the two universities dates back over two decades when School of Nursing faculty worked with UDS to establish their nursing program. While the partnership initially focused on rural health practicum placements and training opportunities for School of Nursing students, it has since expanded to include collaboration on professional development workshops and other teaching, learning and research opportunities through initiatives such as the Global Health Practicum, Guided Reflective Inquiry Projects (GRIP), and now, iClicker workshops.  
"It was a win-win solution and a great demonstration of how the global community can come together to support one another," says Berringer. 
The Okanagan Campus International Office facilitated the transfer of six classroom kits— including more than 250 iClicker remotes, 25 teacher remotes, 12 bases and six locks to UDS—with much of the equipment donated by UBC Okanagan students.  
In the Fall, UBC faculty and staff led virtual iClicker workshops with their UDS counterparts to support the integration of iClicker technology into UDS classrooms. Additional workshops may take place in the future to provide a setting for discussion on the pedagogy behind using student response systems, such as iClickers, as a means of engaging students effectively in learning.  
UBC Okanagan and UDS are continuing to build strong ties connecting our universities. In March, Dr. Rehan Sadiq and other campus leaders will visit Ghana. The trip was originally planned to take place in 2020 and delayed due to the pandemic.  
"There are great discussions taking place with the potential for more innovative collaborations between our institutions," says Sadiq. "I'm excited to see how our partnership with UDS will continue to strengthen and evolve in the future."